0
Showbiz News
'Celebrity Apprentice's Jesinta Campbell: 'Pauline Hanson is amazing'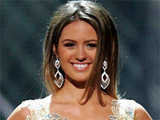 Jesinta Campbell
has revealed that she admires Pauline Hanson.
The former
Miss Universe
Australia, who is currently taking part in Aussie reality television series
Celebrity Apprentice
alongside controversial politician Hanson, even described her as being like her "mum".
Campbell told the
Herald Sun
: "Pauline is amazing. I really didn't think I'd get along with Pauline because politically she has such strong views and I don't necessarily agree with a lot of them, but the beautiful thing about this show is you get to see a different side."
She also revealed that Hanson won her over when she brought a homemade lemon meringue pie to a dinner party that Campbell threw for her female
Celebrity Apprentice
co-stars.
When the lineup for the show was announced last month, Hanson said that she hoped that her forceful nature, work ethic and leadership skills would help her win the competition, but said that she is fully expecting the "usual scrutiny" that she gets wherever she goes. "This is Pauline Hanson," she said. "I'll do what I can."
This year's
Celebrity Apprentice
lineup also includes male model Didier Cohen, singer Deni Hines and National Rugby League star Wendell Sailor.
Filming started
in Sydney about two weeks ago.
> Donald Trump makes guest appearance on Aussie 'Celebrity Apprentice'
> Aussie 'Celebrity Apprentice's Shane Crawford: 'I want to win'