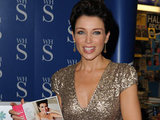 Dannii Minogue
has revealed that a thyroid problem caused her dramatic weight loss.
Speaking to
Stella
magazine, the
Australia's Got Talent
judge admitted that she had struggled to lift her baby Ethan, who
she gave birth to in July last year
.
Minogue explained: "My thyroid stopped working and I had appendicitis. Leading up to that, I was getting thinner and thinner and stressing because I didn't know what it was.
"Normally you put on weight if you have an under-active thyroid but there is a percentage of people that have it reversed. It got very hard to concentrate, you can't sleep and I got very weak.
"I was finding it hard to pick Ethan up and I was thinking, 'I'm a new mum, I know I'm tired but surely it can't be this hard?'
"When you've just had a baby you think it must be normal tiredness but it got to the point where I thought, 'This can't be normal'."
When asked whether she would consider having more children following the issue, the 39-year-old added: "Maybe, yes.
"But honestly until I get my health back on track it's not a possibility. Meanwhile I turn 40 this month. I do see babies and think, 'Yummy'."
> Dannii Minogue: 'I thought I'd die after health scare'