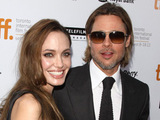 Angelina Jolie
and Brad Pitt have donated $340,000 (£215,859) to the charity Humanitarian Initiative Just Relief Aid (HIJRA).
The group currently provides health services for hundreds of women and children who live in Somalia's refugee camps.
The stars have requested that their donation go directly to aid mothers and young children, who have been trapped in the war and famine-ravaged African nation.
HIJRA's spokesperson said that Pitt and Jolie's gift will help the group greatly increase aid efforts in the Somali capital of Mogadishu.
Jolie travelled to Libya earlier this week to
offer her support for its citizens' bid for freedom
.
She was also
honoured in Switzerland two weeks ago
for her decade of service as a UN Goodwill Ambassador.
> Brad Pitt: 'Angelina Jolie and I feel obligated to help others'
> Angelina Jolie visits anti-landmine charity in Scotland
Watch Angelina Jolie visit with Somali refugees in 2009 below: