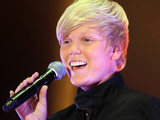 Australia's Got Talent
star
Jack Vidgen
has promised that he will never become a brat.
The 14-year-old singer, who
won the reality television competition
earlier this year, said that he has moved into a new Sydney apartment with his mother Rachel but has not yet started thinking about investing in property.
Vidgen told Seven Network television show
Better Homes and Gardens
that his humble upbringing has taught him the value of money, saying: "I'm not ready to buy anything just yet."
He did, however, admit that he spent some of his $250,000 (£162,000) winnings on new furniture for him and his mum, such as a black couch, saying: "Most of our furniture beforehand was second-hand. A lot of stuff we got from St Vincent de Paul and now we've given it back.
"It was a good feeling because other people have helped us along the way."
Vidgen has been
trying to crack
the US music industry since winning
Australia's Got Talent
, but said that he
feels very "privileged"
at landing a record deal.
> Nikki Webster warns Jack Vidgen about fame
> 'Australia's Got Talent' star Jack Vidgen receives death threats
Vidgen recently revealed that the best thing about his win is that he now
gets to regularly visit
his dad Steven, who lives in Queensland and suffers from multiple sclerosis.
He said: "Time with my Dad is so much more precious now, because you just never know what is going to happen. It's very special. I love my Dad very much."
Vidgen will be seen on
Better Homes and Gardens
tonight (October 14) at 7.30pm on Seven.
Watch Jack Vidgen's performance in the
Australia's Got Talent
final below: