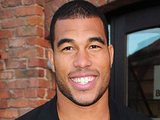 Nadine Coyle
has hinted that she may reunite with ex-fiancé Jason Bell.
The Girls Aloud singer, who
split from the NFL star in May
, refused to rule out the possibility of a romantic reconciliation.
She told
OK
: "We're so close... we go for drinks, dinners. We're still very much in each other's lives. He's making sure I'm organised and that I don't miss my flights and I pack properly. It's really nice.
"Will we get back together? Never say never. It's been really fun here in New York and I'm having a great time."
The
'Sweetest High'
singer also said that she is "not a million years away" from marriage, saying: "I'm not in a place right now where I feel like I can walk down the aisle.
"I still feel I want a bit more me-time before I can fully commit to getting married. I'm not a million years from it, but just not this year."
She also claimed that her initial break-up with Bell was amicable, adding: "Jason's very relaxed and mature. But I decided there and then. I was in a position where I was working towards getting married and he understood that. He was like, 'OK, you know that's what I want but go and do your own thing'."
However, the 26-year-old did not rule out another boyfriend. She teased: "There's always somebody around. I'm really good at going on dates.
"I was like that even in London. I've never been single for long. But any time I am single, I always seem to go on lots of dates. It's good meeting people through friends - it's safer."
> Girls Aloud's Kimberley Walsh quashes Nadine Coyle quit rumours
Listen to Nadine Coyle's 'Sweetest High' below: