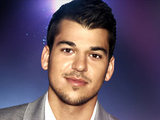 Rob Kardashian has insisted that the Kardashian family plan to deal with sister
Kim Kardashian
's divorce privately.
Kim
filed for divorce
from husband Kris Humphries on Monday after just 72 days of marriage, later admitting that
splitting from her husband "wasn't easy"
.
Rob discussed his sister's break-up with reporters after competing on Monday's
Dancing with the Stars
episode.
"My sister and I and everybody are obviously going through a lot right now," he told
Access Hollywood
.
Rob added: "We're all supportive of everything she does and we're just a very close-knit family. We keep everything private."
Kim's sisters Kourtney Kardashian and Khloe Kardashian have also
expressed their support for the reality star
and promised to help her through this difficult time.
Humphries has commented that
he is "devastated" by Kim's divorce filing
, saying: "I'm committed to this marriage and everything this covenant represents and I'm willing to do whatever it takes to make it work."
> Kim Kardashian 'very sad' over Kris Humphries divorce
> E! holds emergency meeting over Kim Kardashian, Kris Humphries divorce
Watch Rob Kardashian discuss Kim Kardashian's divorce below: