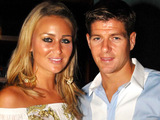 Steven Gerrard and wife Alex have welcomed a third child.
The Liverpool footballer's wife gave birth to a girl at 4pm this afternoon (Tuesday), weighing 7lbs, 15oz.
Both practising Catholics, they named the girl Lourdes after the French town to which pilgrims travel every year.
In a statement, a spokesman for the couple said that the baby is "doing well", adding: "Steven and Alex would like to thank the media for respecting the privacy of their family at this time."
The Gerrards, who married in 2007, have two older daughters - 7-year-old Lilly-Ella and 5-year-old Lexie - together.
News of
Alex's pregnancy was revealed in May
.
> Steven Gerrard 'not allowed to name baby Eight'