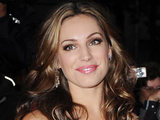 Kelly Brook
has revealed that she hates her boyfriend's singing.
The glamour model and actress, who has been in a relationship with rugby player Thom Evans for about a year, said that she used to think the hobby was "cute" but now she just finds it irritating.
Brook told
The Sun
: "He used to be in a boyband so he is always singing something. At first I thought it was cute but these are the things that tend to annoy you in the end."
The couple
tragically lost their unborn child earlier this year
, five months into her pregnancy. At the time, she said that she experienced "moments of total sadness and devastation".
During and after her pregnancy, Brook
praised Evans
for being a great support and helping her be "very grown up" about the situation.
She has since insisted that she is
still keen to start a family
, saying: "Sometime in the next couple of years, I'd love to have children. But until then, I need to concentrate on the serious business of looking glamorous."