In the words of Leslie Phillips... well heeellooo. A joy to have joined the
Digital Spy
team and I look forward to sharing with you my comings and goings in the world of celebrity and showbiz over the coming months.
So, we gotta love the infamous telly 'autumn schedule', haven't we? All year the networks scrimp and save, competitive ratings pulling 'bums on seats', Saturday night shows are tweaked, and the customary high-profile sackings are manipulated to suck us all right in... also, come September we have an excuse to be antisocial and never venture out on a weekend for the rest of the year. Genius. They saw me coming!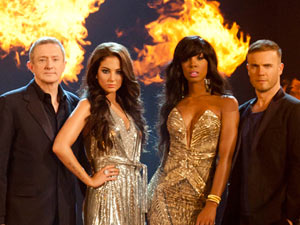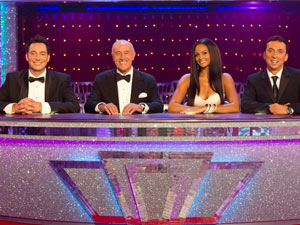 OK, of course
X Factor
has not been without its issues this series... the eviction twists, judges freaking out after a Cowell conference call, contestants thinking they're flipping Mariah (get back in your box already!), Kelly Rowland inventing a whole new language (... err 'put it down'... beg pardon?) and of course the constant furore over ratings. Well, I'm probably a tad biased... but having helped launch this year's Next Generation offering for
Daybreak
, I completely admit I actually love this series.
Like clockwork, every year everyone slates the talent offering (yawn), but seriously, is this lot really worse than the likes of last year's lacklustre offerings of Wagner, Storm Lee & Belle Ami?? I somehow think not. The Risk leaving this weekend was rather a surprise (in every sense of a crap one), but hey, as Louis keeps banging on, you have to vote for your favourite! Shame the UK's population of 13 to 16-year-old girls kept flipping texting to save Frankie!! Now after yesterday's bombshell news, I'd imagine they're all livid at wasting their phone credit to vote.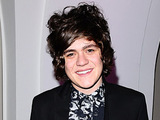 OMG, the bosses wanted sensational headlines and finally seven weeks in, here they are, and they're rather juicy, aren't they? Tut tut, Frankie... you were a ticking time bomb, mate, and yesterday afternoon it all exploded chap. Social networking sites were awash with theories on what the infamous broken 'golden rule' could be... and it didn't take long for the bragging about use of Class As to be revealed as the culprit.
Now, whereas I think he's a stupid lad for dabbling in such a pointless and clichéd activity, I can't help but think it's slightly 'one rule for one' here. Robbie Williams and his past 'habits' didn't seem an issue when employing him as guest judge? However, as much as I'm sure Mr Cocozza would be delighted to be even in the same sentence as 'our Rob', and whereas we can draw many similarities even - can't sing, can't dance, but the girls are in awe – he shouldn't for one minute think a few months on a TV show constitutes this behaviour. You have to have earned your place before you can get away with 'rock star' behaviour. Sadly Frankie, you blew it.
Come Saturday night, we won't be subjected to any more lacklustre sloppy schlepping around stage performances and we now wait with bated breath as to if/who/might come back to fill the void!! PLEASE let it be Johnny. OK, he might not be a 'winner' in the sense of a popstar talent search, but I've never met such a lovely, humble, genuine and deserving bloke. I *heart* him and just imagine his 'lil face if he makes it back... aww, that alone is worth tuning in for.
Coincidentally I live in the same town as the
X Factor
mansion (has caused quite a stir in the local paper, I can tell you!) – my dentist has whitened all the finalists' teeth, the local budget supermarket has never had such kudos and our local drinking holes are thriving with their newly-found 'celebs'... so yes, I am perhaps a tad bias to this year's show, but hey, we're practically faaaamily so I'm in till the bitter end, my friends.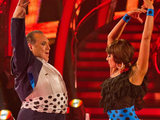 Anna's TV Titters
Russell Grant humping a Bucking Bronco on
Strictly
with just a little too much conviction, LuLu and Brendan Cole clearly hating each other after their vote-off... their attempt at a last dance couldn't have been more frosty, and Jennifer Grey attempting to emulate Len's 'se-ven' on an 'eight'... they say 'imitation is the highest form of flattery'... seriously though, it wasn't.
Catch Anna's
Showbiz Peek at the Week
every Tuesday on
Digital Spy
.