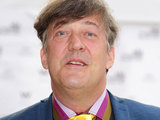 UK celebrity Twitter users including
Stephen Fry
and Jimmy Carr had dinner with the social networking website's chief executive officer Dick Costolo on Monday night.
Phillip Schofield, Davina McCall, Sarah Brown, Charlie Brooker, Richard Bacon, Graham Linehan and
Guardian
journalist Paul Lewis were also among the guests at the #TwitterDinner for the 'top Tweeters'.
Schofield
said
of the evening: "It was like all your perfect dinner guests in one room. Fascinating conversation and phones allowed at the table!"
McCall
added
: "It was fun going to dinner where having a phone was not only allowed but applauded!!!"
On seeing a photograph of the event, columnist and author of
How To Leave Twitter
Grace Dent criticised the gathering for being too male-heavy.
She
wrote
: "2011 spend year doing press explaining how women have always been the lifeblood of twitter. Twitter CEO arrives this monday.
"12 men and 3 women. What the f**k happened there? Seriously though, how does this happen? How does Sarah Brown look at that list and think 'oh that's ok'. GREEN TICK."
> Mexican football team wear Twitter names on shirts
> Henry Winkler joins Digital Spy for Twitter Q&A: Recap