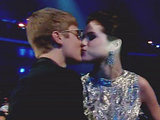 Selena Gomez has insisted that she is holding up well amid the paternity claims against her boyfriend
Justin Bieber
.
Gomez referenced
the allegations that Bieber fathered a child
with 20-year-old Mariah Yeater during an appearance on
The Ellen DeGeneres Show
.
When DeGeneres asked if she has been "alright" in the wake of such controversy, Gomez answered: "I have been, yeah."
DeGeneres followed up by saying: "Everything's all good now. You knew that all along but it's nice to have everything out in the open now."
"Yeah, it's good to just kind of… be good," Gomez replied.
A friend of the couple recently revealed that
Gomez will stand by the 'Mistletoe' singer
and is showing solidarity by joining him on his current promotional tour.
Yeater's attorney Jeffery Leving has denied
reports that the paternity claim has been dismissed
and explained that he is attempting to
organise a DNA test
.
On Thursday (November 17),
text messages allegedly sent by Yeater
, wherein she named an ex-boyfriend as her baby's father, have surfaced online.
Gomez's full interview on
The Ellen DeGeneres Show
airs today.
> Justin Bieber baby claims are false, says The Wanted's Max George
> Selena Gomez alleged 'stalker' - charges dismissed
Watch Selena Gomez reference Justin Bieber's paternity suit on
The Ellen DeGeneres Show
below: