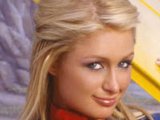 Paris Hilton has denied reports claiming that she refuses to use public transport.
The hotel heiress was shocked by a recent rumour suggesting that she buys a new car each time she visits a new city to avoid travelling with the public.
"People make up such stupid things about me, like the new car everywhere I go,"
Breakingnews.ie
quotes Paris as saying. "Why would I do that? I'll go on the subway and the bus. I don't care about public transport."
Hilton added that the claim was "the weirdest thing I've ever heard about myself".