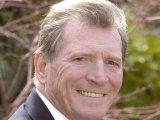 Johnny Briggs is dating a woman who is 41 years younger than him,
The People
claims today.
The former
Coronation Street
actor has kept his relationship with 29-year-old Lisa Charnley a secret because he is currently involved in a divorce battle with second wife Christine.
"They are close but it is early days. He is stressed by the divorce and Lisa helps take his mind off things," a friend told the newspaper. "They meet mostly at his flat because he doesn't want to parade her around at this sensitive time.
"There's a big age gap but Lisa says Johnny is very fit for his age and makes her laugh. What Christine will make of him dating a woman younger than some of his children is anyone's guess."
A spokesman for the star insisted, "He is going through a difficult divorce. Lisa is a close friend and has been a shoulder to cry on."