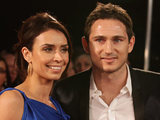 Christine Bleakley
has said that she and Frank Lampard have so far not set a date for their wedding.
The new
Dancing on Ice
presenter, who began dating the Chelsea footballer in November 2009,
announced her engagement in July
.
Asked if she had decided when the big day would be, Bleakley told
Digital Spy
: "The honest truth is not yet. We can't quite plan anything - it all depends on the summer and whether Frank is picked for Euros or not.
"You assume possibly yes if you're lucky enough, but it doesn't mean that he is. If that's the case that he is, the whole summer is eaten up!"
Speaking about what else 2012 will bring for her, the Northern Irish presenter said: "It's going to be all things
Dancing on Ice
definitely for the first three months - gosh yes, that'll be all consuming! I can't wait."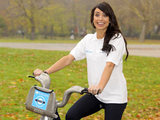 Meanwhile, discussing her recent decision to set up a
Twitter
account, Bleakley admitted that she had been influenced by new co-presenter Phillip Schofield, who frequents the micro-blogging website.
"It was quite scary to being with," she said. "Everyone was like, 'Oh, there is lots of abuse!' I have to say it's been lovely and lots of people from home getting in touch. I quite enjoy it. I'm such a newbie to it.
"I said to Phillip, 'What do you think?', and he said, 'You will love it. It completely takes over your life'. And I'm like, 'Well, I won't be like that'."
She added: "Yesterday, I'm thinking, 'I have to check Twitter!' What has happened to me?! I'm slowly beginning to love it a bit too much!"
Bleakley was photographed this morning, launching Barclay and Bikeworks' 'Cycle into Work' scheme, which helps disadvantaged people gain 'on-the-job' training to achieve full-time employment in the cycling industry.
> Christine Bleakley on Dancing on Ice: 'I've got big shoes to fill'