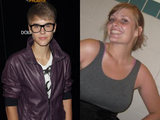 Justin Bieber
has reportedly taken a DNA test to prove that he is not the father of Mariah Yeater's baby.
The 'Mistletoe' singer's manager Scooter Braun previously confirmed that
Bieber would take a paternity test
to remove any doubt that he fathered Yeater's 3-month-old son Tristyn.
Bieber completed the DNA test to establish a solid chain of custody under "very-controlled circumstances" at a New Jersey medical facility on Friday (November 18), a source told
TMZ
.
Reps for Bieber have not confirmed the website's report.
Confusion erupted over the status of Yeater's suit last week amid rumours that
she had chosen to quietly dismiss legal proceedings against Bieber
.
Yeater's lawyer Jeffery Leving later clarified that
she was still pursuing a DNA test
to definitely prove whether or not Bieber is Tristyn's dad.
The 20-year-old has claimed that
she became pregnant after having sex with Bieber
at an October 2010 concert.
> Justin Bieber 'baby mother' Mariah Yeater text messages surface
> Selena Gomez speaks on Justin Bieber paternity allegations - video
Watch Justin Bieber and his manager Scooter Braun discuss Mariah Yeater's allegations below: