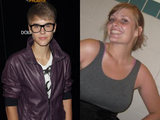 Justin Bieber
has confirmed that he took a DNA test last Friday (November 18) to prove that he is not the father of Mariah Yeater's baby.
A source close to the 'Mistletoe' singer disclosed that
Bieber took the paternity test under "very-controlled circumstances" at a New Jersey facility
in order to clear up whether or not
he fathered Yeater's son Tristyn
in an alleged October 2010 sexual encounter.
During an interview on
The Late Show with David Letterman
airing tonight (November 23), Bieber revealed that he was able to provide a DNA sample with relatively little hassle.
"Yeah, I took [the test].They just swab your mouth," he said.
David Letterman told Bieber that he was angered by Yeater's accusations and cast doubt on her claims by insisting that he could "smell a weasel".
"I could smell a weasel too, a little bit… It's pretty crazy [that] people make up false accusations," Bieber said. "It's gonna happen. Being in the spotlight, people can say whatever."
Bieber has maintained that the alleged October 2010 incident could not have taken place because
he's never even met Yeater
.
Yeater, however, insisted in a recent television interview that
she has evidence that Bieber is Tristyn's dad
, but declined to reveal any specifics.
> Justin Bieber speaks on "unfortunate" paternity allegation - video
> Justin Bieber 'baby mother' Mariah Yeater text messages surface
Watch Justin Bieber and David Letterman discuss the paternity allegations below: