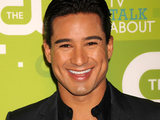 Mario Lopez
has expressed pride in his work with children's charity The Boys & Girls Club of America.
The actor and
Extra
host said that the experience had not only exposed him to new things when he was a youth, but has also prepared him for raising his own
daughter, Gia
.
"I'm proud to say that I'm in their Hall of Fame as an alum and I'm also the Fitness Ambassador. It's meant the world to me because I grew up in the club," Lopez explained in a new interview with
Parade
.
"When I was growing up, both of my parents worked, so it was a great place to be. It exposed me to wrestling and the arts and it just helped me stay out of trouble because it wasn't exactly the most upscale neighbourhood where I grew up. Now, I'm able to give back and give my time."
Lopez added: "It kept me in the right road when I was a kid. And being blessed with great parents and strong sense of family helped prepare me for fatherhood."
He has said that he and girlfriend Courtney Mazza
want more kids
. The pair have already
begun "practising"
to expand their family.