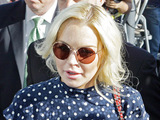 Lindsay Lohan
is almost finished with her first round of court-ordered community service at an LA morgue, according to reports.
Lohan
spent four-and-a-half hours in an LA jail
earlier this month after admitting her
failure to complete court-ordered community service
.
Judge Stephanie Sautner had initially ordered Lohan to complete 360 hours of community service for
pleading no contest to misdemeanour theft
.
Lohan has now been told to continue volunteering at
an LA morgue
in order to avoid more jail time.
Law enforcement insiders told
TMZ
that the actress has already finished 10 of her 12 scheduled sessions at the morgue ahead of the December 14 status hearing set by Judge Sautner.
The source claimed that Lohan hopes to complete several more morgue shifts beyond the required 12 sessions in order to get ahead on her requirement for her second court hearing next year.
Lohan has apparently impressed her supervisors at the morgue by showing up on time and completing all of her tasks during the shifts.
On Friday, Lindsay's father Michael Lohan was
hospitalised
after suffering from chest pains.
> Pitbull 'countersuing Lindsay Lohan over song lyric'
> Hugh Hefner: 'Lindsay Lohan's nude Playboy spread is very classy'