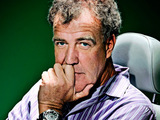 Jeremy Clarkson
has caused controversy with comments made on tonight's episode of
The One Show
.
Appearing as a guest on the daily magazine show on BBC One, the
Top Gear
presenter suggested that public sector strikers should be "shot".
In the interview, he said: "I would have them all shot. I would take them outside and execute them in front of their families.
"I mean, how dare they go on strike when they have these gilt-edged pensions that are going to be guaranteed, while the rest of us have to work for a living."
Elsewhere in the programme, Clarkson claimed that trains should not stop for people who have committed suicide by throwing themselves onto the tracks.
"'I do sometimes use the train to come to London but it always stops in Reading. It's always because somebody has jumped in front of it and somebody has burst," he said.
"You just think, why have we stopped because we've hit somebody? What's the point of stopping? It won't make them better."
Presenters Matt Baker and Alex Jones apologised at the end of the programme, saying: "While we like Jeremy and his strong views, sometimes he exaggerates them for comic effect."
A BBC spokesperson said: "
The One Show
apologised at the end of the show to viewers who may have been offended by Jeremy Clarkson's comments."
Clarkson recently
lifted what he described as a "pointless" injunction
about allegations on his private life.
> Janet Street-Porter: 'Strikes could bring back class war'