0
Showbiz News
Ben Cooke's celebrity hairstyle guide: The Christmas party
He's the man behind
Victoria Beckham
's Pob, Leona Lewis's fishtail plait, Amanda Holden's chop and Sarah Harding's revamp - so when we wanted someone to offer their tips for the
Digital Spy
readers, the award-winning Ben Cooke was the only man for the job. Taking time out from his gruelling schedule, Ben has chosen three of his favourite Christmas party styles and offered handy hints for achieving these looks. Read on to find out more!
'Christmas Party' Styles by Ben Cooke, Co-Founder of Lockonego
Katy Perry
I love Katy Perry's '40s pinup girl style at the moment - it's a really fun and interesting take on the 1940s retro glamour look that's so on-trend this season and works really well for those lavish Christmas parties. 'The Devil's Whip' is a really easy style that takes inspiration from
The Great Gatsby
, offering a super glamorous finish.
The Devil's Whip by Ben Cooke
Step by step guide
Apply Herbal Essences Dazzling Shine Light Reflecting Serum into clean, damp hair to boost shine and create smooth locks. Create a side-parting and blow-dry on a medium heat with the *Signature Large Round Brush by Lockonego


Take hair from the temple of one side and roll upwards and inwards, picking up hair as you go along, until you reach the back of your ear on the opposite side. Secure in place with bobby pins that match your hair shade and generously mist with Sebastian Professional Shaper Zero Gravity hairspray


Tuck the ends of the loose un-rolled hair into a small knot just above your ear and secure with bobby pins


To create a sweeping side fringe, gently pull hair from the knot to slightly loosen and smooth over with a paddle brush, tonging the whole section in one go for a big wave. Finish with a final spritz of hairspray
*Signature Large Round Brush by Lockonego - £35, www.Lockonego.com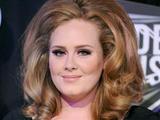 Adele
Adele's extra voluminous and glossy blowdries ooze glamour and sheer femininity without looking over-styled. This is the perfect style for channelling the classic style of Hollywood Screen Sirens and suits anyone.
The Super-Luxe Blow-Dry by Ben Cooke
Step by step guide
Evenly spritz some volumising spray on damp hair, from roots to ends to increase volume then blow-dry on a medium heat using the *Signature Paddle Brush by Lockonego to encourage a smooth finish


Section hair into two partings at each temple to make three even sections across your head. Take a small section from one parting and wind around a hot, medium-barrelled tong, curling inwards. Hold the tong in place for five seconds and carefully remove without disturbing the curl. Secure the curl in place with a flat hair clip


Repeat this on all sections and mist with hairspray to ensure a long-lasting hold


Set curls with heat from a diffuser and wait for hair to completely cool, then gently remove each hair clip to unravel the curls


Brush hair back away from your face towards the back of your neck with the Paddle Brush to create a distressed and voluminous finish


Tease hair with your fingertips and create a rough side-parting, allowing hair to fall naturally over your face
*Signature Paddle Brush - £30, www.Lockonego.com
Kristen Stewart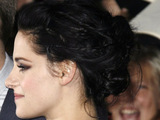 Party up-do's needn't be all about slick styling and looking like a completely different person - it's important to maintain your own sense of style and personality and Kristen Stewart demonstrates this on the red carpet time after time. For you rock chicks out there, try sweeping your hair up into a sexy, dishevelled and effortless style for a cool up-do that doesn't look like you've spent hours in front of the mirror.
The Dishevelled Up-do by Ben Cooke
Step-by-Step:
Apply Sebastian Professional Thickefy Foam from roots to ends into clean damp hair


To achieve this natural, romantic finish, roughly blow dry hair using fingers instead of a brush to encourage natural texture and waves. Once dry, use a wide barrelled curling tong to define curls and add extra waves to hair


Tong strands at the front into loose waves that hang free to soften the finished look


Gently pull hair away from the face and secure in place with a clear elastic hair-tie then shake the ponytail to make it look soft and messy. The hair should look baggy from the sides


Finally, tuck the ponytail section under the hair at the nape of the neck and pin into place then shake again


Tease out some fine strands of fly-away hair for the soft, romantic finish
Ben will offer more tips and advice next month, but for now, you can follow him on Twitter
@BenCookeHair
.