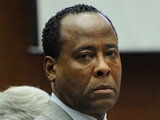 Conrad Murray
has decided to represent himself as he appeals his conviction for the involuntary manslaughter of Michael Jackson.
Murray was
sentenced to four years in prison
on November 29 after being
found guilty of administering a fatal overdose of propofol
to Jackson in June 2009.
The 58-year-old filed an appeal notice in Los Angeles Superior Court this week and stated that he would not be hiring an attorney for the hearing.
"He disagrees with the jury's findings and the pretrial rulings made by the court," defence lawyer Nareg Gourjian told
CNN
.
However, Gourijan explained that is not unsual for a lawyer specialising in the appeal process to be appointed after a filing like Murray's.
It was reported that Murray had fallen out with his legal team during the involuntary manslaughter trial.
His attorneys apparently complained that Judge Michael Pastor made a series of decisions that limited their ability to defend him.
> Michael Jackson trial prosecutor: 'Conrad Murray interviews hurt him'
> Jermaine Jackson: 'Conrad Murray should have been charged with murder'