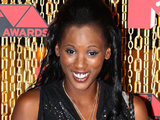 Celebrity Apprentice
contestant
Deni Hines
has insisted that she is not a "mean person".
The Australian singer, who was dubbed 'the witch' of the reality television show after
run-ins
with fellow contestants Polly Porter and Jesinta Campbell, said that she "never bullied" anyone.
Hines told
New Idea
magazine: "I didn't expect [the negative backlash]. It was a weird experience. When you're being filmed seven, eight hours a day you tend to forget they're following you all the time, then selectively editing the material.
"It's not especially nice, but I can handle it. Tomorrow, somebody else will be picked on. I did say I was happy to stir the pot a bit because that makes good TV. There were a lot of controversial comments said by all contestants, but I guess the network chose to lump it all on me."
Hines added: "I never bullied anyone! Had I known [Polly was upset], I'd have gone up and said sorry. I stand up for the underdog - I'm not a mean person. For now, I'm being treated like I've killed somebody. I didn't rip Polly's eyes out!"
The musician also said that she was "terribly sorry" for the
threatening comments
she made about Campbell, adding: "It was meant in jest."
She admitted that
Celebrity Apprentice winner
Julia Morris was her "favourite" and that they have become "closer" since the show ended, and said that politician Pauline Hanson was a "big surprise", because she did not expect to like her.
> Aussie 'Celebrity Apprentice's Lisa Curry defends 'bully' Deni Hines
> Aussie 'Celebrity Apprentice's Wendell Sailor: 'I'm off Deni Hines'
Watch Deni Hines on
A Current Affair
below: