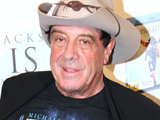 Molly Meldrum
is fighting for his life in hospital.
The Australian music mogul, journalist and former
Countdown
host - born Ian Meldrum - fell from a ladder at his Melbourne home while hanging Christmas decorations on Thursday night (December 15) and is now in a critical condition at the city's Alfred Hospital.
Speaking at a press conference on Friday (December 16), Meldrum's brother Brian said: "It's devastating when things like this happen. As a brother I am overwhelmed by the tremendous love and support that has been shown to him. And I know Ian would be overwhelmed too - and he's not overwhelmed by anything.
"He's a tough guy. Anyone who's been in the entertainment industry for 45 years and survived has got to be tough. It's been extraordinary and gives us tremendous hope to know so many people have this depth of feeling for him."
Brian said that his brother was making "little steps forward", but stressed that he was "not out of the woods".
The entertainer's injuries are thought to include a fracture to his skull, broken ribs and a punctured lung.
Professor Jeffrey Rosenfeld - who is director of neurosurgery at the Albert Hospital - added: "We're really concerned for his life, it's a life-and-death matter... The next 24 hours is critical. We're encouraged by the way he's going so far but he's still critical."
Meldrum - who has interviewed stars including Susan Boyle and Kylie Minogue over the years - is expected to remain under sedation until next week at the earliest, in order to allow bruising to his brain to subside.
His recent interview with Beyoncé
sparked rumours that she was wearing a fake baby bump
when some viewers claimed that footage made it look as though her tummy "caved in" as she sat down.
Meldrum has received well wishes from a host of Australian celebrities including both Kylie and Dannii Minogue, Boy George, comedian Adam Hills and Australian prime minister Julia Gillard.