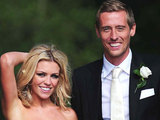 Abbey Clancy
and Peter Crouch have had their £4.5m mansion raided by burglars.
The couple returned from hospital after Crouch was tested for meningitis to discover that thieves had broken into their Cheshire home through a kitchen window.
Thousands of pounds worth of jewellery and watches, electrical items and Christmas presents for loved ones were among the items taken, according to
The Mirror
.
"Abbey and Peter are naturally distressed that this has happened, particularly in the run-up to Christmas," a source commented.
Clancy and Crouch's
nine-month-old daughter Sophia
had been with relatives at the time of the break-in.
The England footballer spent the night in hospital prior to the results of his meningitis test, but was diagnosed with having caught the winter vomiting bug norovirus from Clancy.
Crouch was previously targeted by burglars back in 2006, while Clancy had
naked photos of herself stolen
from her mobile phone in September.