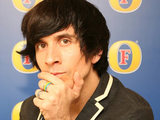 Russell Kane
has revealed that he feels uncomfortable with the idea of casual sex.
The 31-year-old planned to exploit his "deluded" admirers after his nine-month marriage to comedian Sadie Hasler collapsed earlier this year, but came to the conclusion that he was too much of a "loser" to womanise.
"I didn't go on a shagathon, but went through four women in a month," he told
The Sun
. "It's hardly Russell Brand territory but it was good going for me - I was pretty much doubling my lifetime tally!
"But I quickly discovered I wasn't comfortable with not seeing them again. I'd envisaged two years of wild living but I couldn't manage it. I'm such a loser.
"I have a few beers and all I can think about is watching
Dog Whisperer
on National Geographic. Wild sex is the furthest thing from my mind!"
Despite hinting at some unhappy circumstances behind his break-up with his Hasler, Kane added that he had not been put off tying the knot again.
"I was barely married. I dipped in, got a visa, had a look round and then came out again," he said. "When we split we promised never to tell anyone the reason why.
"I'd love to use it as material - but we made a pact and we'll stick to it. It was totally amicable, not a single CD was disputed. We just said, 'We f**ked up, let's move on'.
"With my first marriage, I feel like I went to a really beautiful country and got food poisoning. Hopefully I'll be able to visit again - I don't want to wait too long."
Kane recently admitted to being baffled by modern men, describing them as
"a hybrid of eyeliner-wearing perverts"
.
> Russell Kane praises "entertaining" Katie Price