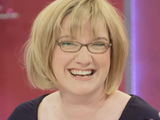 Sarah Millican
has revealed that she darkens the room during her gigs to encourage fans to disclose sex-related secrets.
The South Shields-based stand-up, whose is currently performing
Thoroughly Modern Millican
across the UK, emphasised the importance of audience participation in her shows.
Speaking to
The Sun
, she explained: "I always make sure the room is really dark so I can't see the audience, which makes them happier to join in when I ask them to talk about sex.
"Because it's dark they know I won't recognise them in the street afterwards, so I can't run after them saying, 'You're a bit of a slag, aren't you, love?' On the last tour I asked, 'Have you broken anything during sex?' and a woman said 'a hamster'."
Millican continued: "It actually turns out I'd misheard and it was a banister, which is still pretty impressive. That whole moment was absolutely hilarious from start to finish.
"I love talking to them because there's nothing funnier or more interesting than other people. People are generally quite happy to tell me very personal stuff because I've already said lots of my own personal things."
"It's a bit like if you say, 'Tell me a secret' and they already know one of yours. From my first gig I've always been filthy! People think I've ruded it up for stage but I've actually cleaned it up for telly."
The star added: "I try to swear quite early on, get a rudey out, so that everyone knows what it's going to be like. That's better than interrupting the flow halfway through with a filthy story that takes everyone by surprise.
"Not only does it make every show different for the audience, but for me as well because I have to do the same show 150 times. In order for me to not get bored with it, those are the bits I like the most."
Watch an animated clip from Sarah Millican's stand-up below: