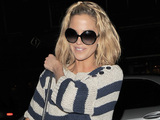 Sarah Harding
and her boyfriend could both face charges over their
alleged "terrible fight"
at an Austrian ski resort on New Year's Eve.
The Girls Aloud star was seen sporting bruises and a bandaged hand following the clash, while her lover Theo de Vries
showed off his own injuries
in a tabloid interview yesterday, including a bite mark on his leg and a bruised eye allegedly caused by Harding throwing an ashtray.
De Vries was arrested after Harding called police, but has since been released. He declined to press charges against the singer, but authorities have filed a report for Austrian prosecutors due to the severity of his allegations.
"Both the man and the woman face assault charges," a police spokesperson told
The Mirror
. "The difference is allegations against him are because she made a complaint - allegations against her are as a result of the man's injuries."
The rep added: "When it's clear there has been an injury, the process is automatic."
Harding recently
finished rehab treatment
for alcohol and depression issues
sparked by her split
from former fiancé Tom Crane.