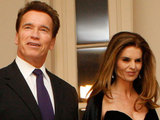 Arnold Schwarzenegger
and Maria Shriver are not planning to reconcile, it has been claimed.
In late December, Shriver was said to be
having second thoughts
about
divorcing the movie star
.
Schwarzenegger was recently spotted
wearing what appears to be his wedding ring
, sparking rumours that the two would reunite. However, a source has denied these claims.
"The reports of a reconciliation are not true," the source told
People
.
The pair separated in May after the former California governor
admitted that he had fathered a child
with a long-term member of his household staff.
In spite of the ongoing divorce proceedings, a family insider insisted that Schwarzenegger and Shriver will always be there for their children.
"Arnold and Maria will always come together when it comes to supporting and loving their children," the insider said.
In August, Shriver
joined her estranged husband for a lunch to celebrate his 64th birthday
.