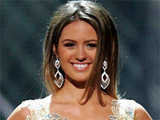 Jesinta Campbell
has revealed that she feels "pressure" to look good all the time.
The 20-year-old former Miss Universe Australia, who
took part
in Nine Network reality show
Celebrity Apprentice
last year, said that she has grown in body confidence as she has got older.
Campbell told
New Idea
magazine: "I'd be lying to you if I said I didn't feel pressure - when you're being judged out of ten for your bikini body, you feel the pressure! The best thing I've learnt is not to compare yourself because there will always be someone else out there who is thinner or has a better body, so now I don't beat myself up about it.
"I love exercising. It's a big part of my life and I just enjoy it. For me it's a little bit of a relief and my relaxation as well. I was recently at the gym on a Saturday night at 7.30pm! I put my music on and I run. I love to run."
Campbell also revealed that she "cannot live" without chocolate and cakes, saying: "I love to bake, so when I'm baking, usually half the mixture is gone before it ends up in the oven - that's my splurge."
Campbell is
believed to be dating fellow model Didier Cohen, who she met while filming Celebrity Apprentice.

> 'Celebrity Apprentice's Jesinta Campbell lands Nine Network TV job
> Jesinta Campbell: 'Being bullied was a learning curve'