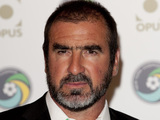 When reports emerged this morning that ex-footballer and actor
Eric Cantona
wanted to stand for the French presidency
, we were more than a bit excited (even if his declaration was later
reported to be a publicity stunt
to raise awareness of France's housing crisis).
Following '7 Seconds' star Youssou N'Dour's presidency plans
in Senegal
and Wyclef Jean's
attempts in Haiti
, plus of course, the success stories of 'The Governator' Arnold Schwarzenegger and ex-Pakistan cricketer Imran Khan, all these celebs seeking office had us thinking...
Ignoring our complicated political system and little things like policies for a moment, which famous figure would you most like to see going for Prime Minister over here? Vote in our poll below now!
This poll is now closed - read the results here