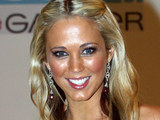 Bec and Lleyton Hewitt are believed to be moving back to their native Australia.
The former
Home and Away
actress, who has children Mia, Cruz
and Ava
with tennis champion Lleyton, is reportedly very happy that they will be near their families after seven years
following her husband
around the world and spending most of their time in the Bahamas.
A close friend of Bec told
Woman's Day
magazine: "Bec won't miss the five-star life one bit. Any time she's in exclusive boutiques in London or Paris, she's just keeping someone else company or killing time. Her tastes are fairly simple. She's always emphatic about not needing or wanting any more jewellery. She's happy with who and where she is in life."
The source claimed that the star was unhappy in the couple's expensive mansion in the Bahamas, saying: "She has always wanted her kids to grow up like she did, with lots of space and family around them. She has never felt safe in the Bahamas and with Lleyton away so much, felt really lonely and isolated."
Bec is said to be "thrilled" at Lleyton's career prospects when he retires as a player, with the friend saying: "[She] thinks his talents are perfect for managing the biggest tournaments anywhere in the world. She's always boasting that he's so clever."
Tennis insiders have claimed that people are "amazed" by Lleyton's "dedication" to his future, adding: "He's determined... you get the feeling he's going to achieve great things."
The friend added: "Bec's always wanted the Lleyton she knows to be respected. She wants him to be happy because, for Bec, it's pretty simple - happy husband, happy life."
> Lleyton Hewitt pays tribute to "beautiful" wife Bec
> Bec Hewitt: 'The kids are growing quickly'