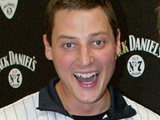 Merrick Watts
has become a father for the second time.
The 37-year-old radio personality, whose wife is called Georgie, welcomed baby daughter Kinga Rose into the world on December 30 last year. However, the news has only recently been reported in the Australian press.
Watts wrote on
his Twitter page
: "Wolfe, Georgie and myself welcome our baby girl Kinga Rose to the world. Her and mum are perfect. Dad is a bloody mess and on IV drip."
The star revealed that the name is thanks to his wife's Polish heritage but admitted that his mother is not a fan, saying: "My mum doesn't like the name, but what did she expect after [son] Wolfe? Seriously, mum!"
Watts revealed last year that a health scare with Wolfe made him
reassess his career
.
"Wolfe was quite sick," he said. "It hit me for the first time that my job and career are so much less important to me than my son."
He later
quit his breakfast radio job
at Nova 969 after a decade, two years after former co-presenter
Tim Ross announced his departure
.
Watts has now
joined the drive time show
at Triple M, while Michael Wipfli and Ryan Fitzgerald
have taken over
his old position at Nova.
> Tim Ross 'excited' about Merrick Watts quitting radio show
> Kyle Sandilands blasts Merrick Watts on radio