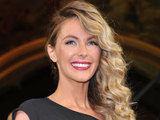 Jennifer Hawkins
has hinted that she will be getting married this year.
The Australian supermodel, who is
engaged to builder Jake Wall
, said that she gets an "inspiration" board every New Year to write down the things that she wants to achieve in the next 12 months, and has "wedding" on the list this year.
Hawkins told
The Daily Telegraph
: "I'm so excited, I can't believe it's all happening. Nothing's completely locked in yet but we've penciled a lot of stuff in. It's all coming together."
She also said that she wants to take her family on holiday in 2012, adding: "[I'd like] something we can all do together. I would love to be able to organise that for them."
Hawkins revealed that she became lazy with exercise in 2011 but wants to look after herself this year, saying: "I just stopped everything last year, I'm not sure why. But I'm running again now and I'm loving it. I've just got a new personal trainer. I'm into it and I feel great."
When
asked about her wedding last year
, Hawkins said: "I haven't had time to think about it! It's all a bit of a blur. It's so strange. I usually have a strong vision for something I'm doing, like in my business, but with this... I just don't know at the moment.
"We just want to make it right. So I want to give it the time it deserves. I have a lot of friends and family going so we want it to be something easy for them."
> Kris Smith, Jennifer Hawkins just "mates"
> Jennifer Hawkins: 'Modelling is superficial but I'm real'