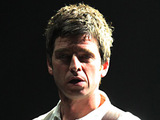 Noel Gallagher
has revealed candid details of his drug addictions in the mid-to-late 1990s.
The
High Flying Birds
singer-songwriter, who was then in Oasis with brother Liam, said he found it "easy" to give up cocaine.
The musician told the
Yorkshire Evening Post
: "The giving up of gear itself was just, 'Do you want to be a junkie any more?' 'No, I don't, let's stop taking drugs'.
"What was more difficult was leaving a circle of friends. The next part of the war is you can't be surrounded by people who do [drugs] any more - initially, at least.
"I had to go for a long walk in the woods. It was easy, but then I was not doing smack and I was not alcoholic. They are the tricky ones. With anything else a bit of willpower will do it."
Gallagher added: "Alcoholism and heroin are so powerful. You're never fully freed from that. I've got friends who are still in [counselling] meetings who have been off heroin for 20 years."
> Metallica's Lars Ulrich: 'Noel Gallagher helped me quit cocaine'
> Noel Gallagher: 'I used drugs in Queen's No.10 toilet'
Watch the video of Noel Gallagher singing 'AKA... What a Life' in a video featuring Russell Brand below: