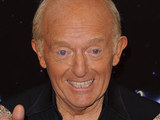 Paul Daniels
lost his left index finger and the tip of his ring finger after accidentally cutting them off while using a circular saw.
The magician, who
competed on Strictly Come Dancing
in 2010, was making new props for his stage show when the accident occurred.
Daniels, who was trying to fit a safety guard to the tool when his hand slipped, drove to Townlands Hospital in Henley-on-Thames, Oxfordshire, before being transferred by ambulance for emergency surgery at Wexham Park hospital in Slough, where the index finger was reattached.
"I had no idea what had been damaged or lost or where I was or anything. My head was full of pain and the possible end of the magic," he told
The Mirror
.
"I could hear phrases and words around me - like 'bone shattered', 'ground up', 'nail gone' and 'might be able to save the finger'.
"It's my ring finger that's gone. It's still really tender and my arm's in a sling. I can't do very much or test it out yet and I am already having to make adjustments."
Writing on his personal blog, Daniels explained further, "Bad moments recur, the worst being full shock state one night which turned me into a gibbering wreck as I relived the moment it happened. This has given me a fuller understanding of shock. It's not nice."
The entertainer has insisted that he will still go ahead with his upcoming 26-date tour of the UK, which starts in Southsea, Portsmouth, on February 22.
He added that wife Debbie McGee has been "wonderful" as his "official nurse" and joked that he's "keeping one and a half fingers crossed" he can still perform magic.