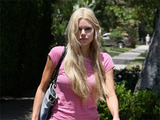 Sophie Monk
has revealed that she has the same body issues as everyone else.
The LA-based Australian model and radio star, who recently
posed in a swimsuit
for
Maxim
magazine, said that it would probably surprise her fans to discover that she "rarely wear[s] a bikini".
Monk told
The Daily Telegraph
: "Because I constantly get glammed up for work, it feels like a job, so I'm in sweats with wet hair and no make-up every time I get the chance. I'm a comfortable kinda girl who likes her tracksuits - well, until my New Year's resolution to try to dress up more!
"Hollywood only takes you seriously depending on how you look on the red carpet. In fact half your career is determined by how you are seen when you're not at work."
Monk added: "I grew up extremely self-conscious and shy. We all have those PMS days when we don't want to be looked at. I used to go up and down like a yo-yo with weight because gossip and fashion magazines focus on it so much.
"Girls, I'm not going to bulls**t you and say I was 'blessed with genes' and that 'I eat whatever I want'. It's so rare to be one of those women. I totally watch what I eat, then pig out after a shoot."
Monk also revealed that she gets a "kick" out of her radio work now because she can "entertain", but also because "it doesn't matter what you look like".
> Sophie Monk: 'I avoid dating LA men'
> Sophie Monk: 'I've never slept with Kyle Sandilands'