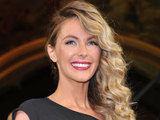 Jennifer Hawkins
has said that she loves current fashions.
The Australian supermodel - who recently went on a photoshoot for department store Myer's autumn/winter collections - said that she finds the world she works in very "exciting".
Hawkins told the
Herald Sun
: "I'm a summer girl, but I do like the change of season. It's exciting putting on new things for the first time. Some of the trends are taken from where we are now in summer. The colours are beautiful - mustards, orange and navy."
Listing her favourite designers, Hawkins continued: "Overall I love Magdalena [Velevska]; her collection is really amazing. I love [women's label] sass & bide. Because it's layered, you can buy one piece or the whole outfit. And Aurelio's [Costarella] tailoring is so beautiful."
Hawkins also admitted that she still has not chosen a designer to create her wedding dress for her
upcoming nuptials
to partner Jake Wall, saying: "There are so many amazing designers to choose from, but I'm narrowing it down."
At the beginning of this month, Hawkins revealed that
she had designed an "inspiration" board
in the New Year to highlight the things that she wants to achieve in the next 12 months, and had "wedding" on her list.
"I'm so excited, I can't believe it's all happening," she revealed. "Nothing's completely locked in yet, but we've penciled a lot of stuff in. It's all coming together."
> Kris Smith, Jennifer Hawkins just "mates"
> Jennifer Hawkins: 'Modelling is superficial but I'm real'