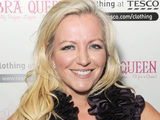 Michelle Mone
has opened up about
divorcing her husband of 19 years
, suggesting that they would still be married if she was a housewife.
The Scottish entrepreneur - whose company MJM International turned over £10.3m in 2011 - said that she worries about being alone for the rest of her life after splitting with partner Michael in December.
"I miss him. I miss what we had. I just keep thinking I'm going to be on my own for the rest of my life," she told the
Sunday Times
. "I wish I was that woman who relied on her husband to do things for her. To buy her things, to cling on to [him] in the way a wife does.
"I don't think a lot of men like independent women... If I was a housewife I'd probably still be married to Michael. Why did I want to be Michelle Mone? Why did I want to start all these businesses?
"I'm not dissing housewives, but why couldn't that be me? And then maybe I wouldn't have gone through all this heartache. I think the business has taken over my life. It is my life."
The former spouses' lawyer said of the split last year: "Michael and Michelle's focus will be the welfare of their children, which is their main priority. They will continue to work together in their business MJM International."
The couple have three children together, Rebecca, 19, Declan, 15 and 11-year-old Bethany.
> Michelle Mone 'wants Dragons' Den role'