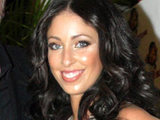 Tamara Jaber
has moved on from her marriage to Kyle Sandilands with a new relationship.
The Australian singer, who
used to be
a part of girl band Scarlett Belle, got together with banker and semi-professional Santa Monica footballer Ken Aseme when she relocated to Los Angeles last year.
The couple have been spotted together in Hollywood, while Jaber also posted a photo of Aseme on her Twitter page recently, writing: "Something's in life are made perfect (sic)." Friends of Jaber have said that she is the happiest she has been in years.
According to
Woman's Day
magazine, Jaber and Aseme were introduced by rugby planer Danny Cipriani, who was also romantically linked to Jaber following
her divorce
from radio star Sandilands.
After their split in 2010,
Jaber said
: "Going through a f**king divorce was very, very, very difficult. I had no idea. I was smiling for the camera but I was dying inside. I don't think it hit until a while after and everything settled down and... I just couldn't get rid of the pain.
"Getting divorced feels like you've got this big stamp on you that says 'failure' to the world. You do feel like it's your fault. But in saying that, I do feel better. I am getting there, but I still have a long way to heal."
> Sophie Monk: 'I've never slept with Kyle Sandilands'
> Kyle Sandilands 'wanted to be married forever'