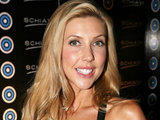 Catriona Rowntree
has revealed that she finds it difficult to have work and home life balance.
The 40-year-old Australian television presenter, who has sons Andrew
and Charlie
with husband James Pettit, says that she believes her children will forgive her for sometimes devoting time to her career.
Rowntree, who presents travel show
Getaway
, is scheduled to travel to Queensland on assignment this week. However, she added that she has not yet decided whether or not she will be able to take her family on upcoming trips to the Black Sea and France.
She told the
Herald Sun
: "I don't know yet if it's with the hubby and sons, but I'm not sure how my heart will do it. I know my boys will still love me [even if I don't take them]."
Rowntree said that it feels "great to be travelling" and "knowing there's still an audience" for her shows, but said that her most important role is being a mother.
"For me, having just had a baby, I will admit I really had to put my family first," she said.
When she was
rumoured to be taking over
Kerri-Anne Kennerley's breakfast show last year, Rowntree said: "The reality is I live on a farm and I have two little boys. Even if anything did eventuate, I just don't know how we could make it work the way my life is right now.
"Plus I'm contracted to
Getaway
all of next year. Sorry to be boring."
Watch a clip of Catriona Rowntree on
Getaway
below: