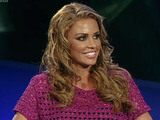 A teenage transsexual
Katie Price
fan has admitted to six
charges of fraud
against the star in court.
Kerry Marshall, an 18-year-old who was born a man but now lives as a woman, revealed to a judge at Lincoln Crown Court that she disguised herself with a blonde wig and sunglasses in order to withdraw £1,000 from an account in the name of Price's son, returning for more money before being
arrested in October
.
According to
The Daily Telegraph
, Marshall was "obsessed" with Price, having tricked her way into the glamour model's Surrey home earlier last year to obtain the bank details, posing as a member of her security staff.
Marshall reported Price's bank card as stolen and persuaded HSBC to allow her to collect a replacement from them and withdraw cash that she later spent on a sports car and jewellery.
Judge Sean Morris gave Marshall a two-year community order with an 18-month mental health treatment requirement. He also imposed a restraining order against Marshall, banning her from contacting or approaching Price for life.
Morris said: "My priority is to protect any further incursion into the life of Katie Price. These kinds of identity fraud are distressing and worrying to the victim. It almost beggars belief. The public would be completely shocked at how easy it was."
Prosecution lawyer Jonathon Dee added: "The defendant... developed an obsession with Katie Price collecting all of her books and DVDs and knowing every detail about her life. The interest developed into an obsession that reached dangerous levels last year."
> Katie Price, Leandro Penna romance 'heating up again'
> Katie Price lands Sun on Sunday column