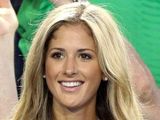 Bernard Tomic
has ended his relationship with model Donay Meijer.
The tennis star, who has been dating Gold Coast-based Meijer for about a year, confirmed that they split "four or five days ago" before he left for the US to compete in Indian Wells.
Tomic told the
Gold Coast Bulletin
: "I'm focusing on my tennis and I wish her the best. We are no longer together. She has her plans and career in modelling to worry about and I have to focus on my tennis."
He also revealed that he was "clueless" about Meijer's recent invitation to L'Oreal Melbourne Fashion Week, where she spoke to reporters about her relationship with him and the challenges that the media attention they get brings.
Meanwhile, Meijer told the
Herald Sun
: "It has all been a bit crazy, but all I have to say in regards to it is we have gone our separate ways and I wish him all the best.
"I hope people will respect my privacy... I'm a bigger person, I'm just going to leave it there."
Meijer was recently
said to be annoyed
that old raunchy images of her had resurfaced in
Zoo Weekly
magazine.
Tomic said at the time: "I know the photos are very, very old. It's stuff that gets thrown at us [and] we can't do anything about that. She's not too flattered. She'd prefer not to be in any of them."
Meijer's mother said that she was "shocked" to see the photographs, but also said that her daughter and Tomic as a "lovely couple".