0
Showbiz News
Boxer Lovemore N'dou denies existence of Lauryn Eagle 'sex tape'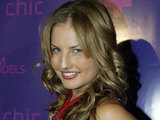 Lovemore N'dou has slammed reports that he is holding former girlfriend
Lauryn Eagle
to ransom with an old sex tape.
The boxer-turned-lawyer, who recently broke up with
Celebrity Apprentice contestant
and sports star Eagle after
about a year together
, said that any insinuations that he still has raunchy footage of the two of them together are "ridiculous".
N'dou told
The Daily Telegraph
that the clip was only a minute long and was destroyed previously. He also revealed that Eagle ended their relationship well, dismissing rumours that they had a difficult break-up.
He said: "The idea that there is this explosive 'sex tape' scandal is ridiculous. It was a clip that I sent her and I destroyed it last year in front of Lauryn. There is no tape. It was a private matter between a couple. It's no longer an issue."
Eagle recently revealed that she had to end her relationship with N'dou because "it was not ideal". She said: "I acknowledge the relationship was very dysfunctional, and people around me have been concerned.
"My career is really important to me. I've worked hard to get to where I am and staying with Lovemore will more than likely put an end to everything. People seem to distance themselves from me while I am with him."
N'dou claimed that Eagle's family and friends never approved of him, saying: "I don't think they felt I was good for her image. It created a lot of stress on our relationship, especially for Lauryn."
> Jesinta Campbell predicts 'Celebrity Apprentice' 2012 winner
> Tania Zaetta: 'Celebrity Apprentice was like being back at school'