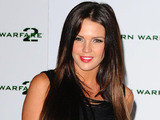 Danielle Lloyd
has revealed that she wishes she had never had her last breast enhancement surgery.
The model and reality television star, who had to
undergo emergency surgery
in February to remove ruptured breast implants and a lethal blood clot, said that she "should have been happy" with her natural body.
Lloyd told
Heat
magazine: "Putting a bikini on for the first time was upsetting, but it's not the size that upsets me, it's my left breast, which is badly disfigured. When I put clothes on, they cover it. To be honest, my small breasts suit a lot of my clothes better.
"I don't want big breasts now. I will have to have more surgery, but it will be reconstruction. If I really think about it now, I wish I had never done anything to my body. You don't realise the upkeep your breasts require. They usually last about ten years, then you have to get new ones. And now I've got nothing - and I've been left with horrendous scars. I'm devastated.
"I wish that I had never had the last boob job. I should have been happy with what I had. They were perfect, really, apart from a bit of sagging, but [footballer fiancé] Jamie O'Hara loved them and I regret that I just didn't keep them. But you don't expect anything like this to happen."
Lloyd
recently insisted
that her wedding to O'Hara in May "is happening - with or without boobs".
> Danielle Lloyd premature son back in hospital: 'I'm so frightened'
> Danielle Lloyd: 'I'm constantly sick'