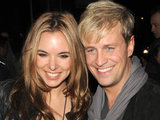 Kian Egan
and Jodi Albert have revealed that they would love to have a little girl.
The Westlife singer and former
Hollyoaks
actress Albert, who
welcomed son Koa
in December last year, said that they will keep trying for a baby until they get a daughter to make their family complete.
Egan told
OK
magazine: "A little girl would melt my heart now but every man likes the idea of having a little boy. I'm looking forward to taking him surfing, golfing - he's going to be an outdoorsy little dude.
"But we do want a little girl, hopefully next time. I think no matter how many boys we have, we'll keep going until we have a girl too!"
Jodi added: "Kian has said he wants four children but I don't know about that. If he's putting the pressure of four on me, I'm going to put the pressure of a girl on him. I've got my little boy. I want a girl next but not anytime soon."
Egan said that fatherhood has shown him "what life's all about", while Albert described being a parent so far as "amazing".
> Westlife attack modern music: 'It's too cool and samey'
> Westlife: 'We felt unloved by Simon Cowell'
> Westlife interview: 'It's a miracle we've lasted this long'
Watch the music video for Westlife's latest single 'Lighthouse' below: