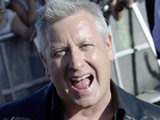 Ian Dickson
has revealed that he is drinking alcohol again.
The
Can of Worms
star, who recently
took part
in the latest version of Australia's
Celebrity Apprentice
, gave up drinking in 2009 in
a bid to lose weight
and gain "control" of his life.
Dickson told
TV Week
magazine: "I knew I could give up, I've done it. I don't think I'm the same manic drinker I was before. I was just miserable, frankly, and really boring. My missus says she's happy to have silly, tipsy Dicko back."
Back in 2010,
Dickson admitted that being sober was "tough"
. He said: "I went out for dinner... and couldn't stop thinking about drinking. I kept staring at this beer, thinking I could slam that down, and then just order another one and slam that one down.
"I could drink a beer now. You think you are over it after 16 months but I am clearly not, I am struggling at the moment. I want to get drunk. I am not that bothered about the taste of beer or beer, I just want to get drunk."
He
later said
: "I never say never but I won't be drinking for a very long time. I might take it up again when I am so old that it doesn't matter, but for now I am focusing on being a good husband and a good father."
> Ian Dickson: 'You can call me Dicko'
> Jesinta Campbell tips Ian Dickson to win Celebrity Apprentice