Sinitta,
Katie Price
, Dionne Bromfield and Gareth Thomas were among the celebrities who turned out to support The Gold Challenge Olympic Stadium event yesterday (Sunday).
TV and music stars, Team GB legends and Gold Challenge fundraisers took part in a series of Olympic and Paralympic themed challenges to raise money for 150 partner charities.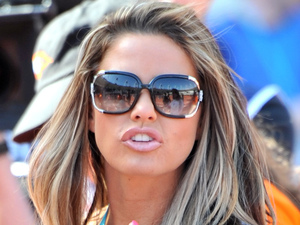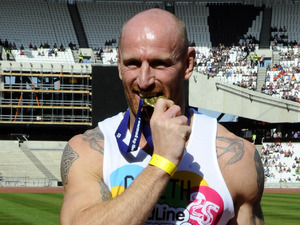 The event featured performances from
Britain's Got Talent
's 2010 winners, gymnastic troupe Spelbound, and 2007 winner, opera singer Paul Potts, who performed 'Nessun Dorma' before the audience of 20,000 people.
The X Factor
finalists 2 Shoes, who also lent their support to the event, told
Digital Spy
: "It feel's 'totes amaze' to be here. It's brilliant. We're here to get involved and start a couple of the races. Just to literally support the whole event.
"It's such a big thing and for it to be here - we just feel really proud for our country. We'd love to perform here. That would be amazing. The Olympics meets 'The Shoes'. We can't run but we can entertain. There's loads of celebs."
Sinitta, who also participated in a track event, said that it was "amazing" to be inside the Olympic stadium in East London.
"It's a great opportunity to be here and be one of the first people to run on the track," she continued. "
I'm a mother of two children
and I'm here to support Childline, who provide a support system for children who are suffering with difficulties.
"It's a huge family event. It's a big thing. It's like the return of Cool Britannia. It's amazing. And we do have great sportsmen so it's a fantastic celebration coinciding with the jubilee as well."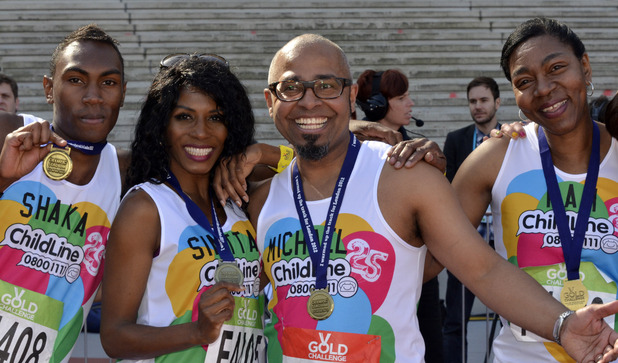 Model and reality TV star Katie Price joined over 1,000 children for the parade along with
boyfriend Leandro Penna
and her children.
"I'm here with Vision," she explained. "It's a fantastic day. The sun's out and I hope everyone's enjoying it. I can't wait [for the Olympics] and I'm so honoured that I've actually been on the track, touched and walked it as well."
Meanwhile, 16-year-old singer Dionne Bromfield, who recorded
'Spinnin' for 2012', the official song for the 8,000-mile, 70-day-long Olympic Torch Relay with Tinchy Stryder,
also took to the stage to entertain the crowd.
"That was amazing. Absolutely loved it," she told
Digital Spy
afterwards. "I mean, to perform at the Olympic stadium. Who can say that? At 16 as well. It's amazing. I'm an East London girl at heart. I used to live in Mile End so it's kind of like my area. So it's nice to introduce young kids to the Olympics because not a lot of kids might be interested in it otherwise."
Explaining why the event was so important, she said: "Anything to do with supporting charities is very important. I'm a lucky, lucky girl with all the things that have been happening for me over the last four years, so to be able to just help other people have even an inch of what I've got, why not? I thought it was a brilliant event. "
The Gold challenge was hosted by the London Organising Committee for the Olympic Games and Paralympic Games (LOCOG) as a key test event ahead of London 2012.
Locog Chairman Lord Coe said that the event would be a "fitting way to say thank you to those who have been inspired by the Games to get active and also raise money for charity".
Gold Challenge is one of the official London 2012 "legacy projects", and aims to harness the excitement around London 2012 to inspire people of every age and physical ability to play sport, while raising money for charity.