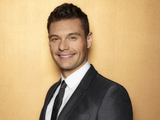 Ryan Seacrest
has postponed his major career announcement until Wednesday (April 4).
The presenter was
due to appear on NBC's Today in New York City on Tuesday (April 3) to reveal "big" news about his future
, but he is apparently still recovering from a recent operation.
"I'm feeling a little pain from elbow surgery, doctors says no travel for a day, so c u on @todayshow wed am," Seacrest
tweeted
last night.
It was reported on Monday (April 2) that Seacrest has likely signed a new contract with NBCUniversal that will see him make frequent
Today
appearances and cover the Olympics for the Peacock Network.
Seacrest had been
tipped as a possible replacement for
Matt Lauer on
Today
, but reports suggest that Lauer will likely renew his NBC contract.
The presenter's separate
American Idol
contract is to expire at the end of the current season. Seacrest has
expressed hopes of remaining on the Fox reality competition
.
> Ryan Seacrest on Sacha Baron Cohen ashes: 'I didn't know he'd do that'
> Nigel Lythgoe: Ryan Seacrest is glue that holds American Idol together