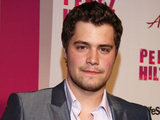 Levi Johnston
has confirmed that he is expecting a baby with new girlfriend Sunny Oglesby.
Johnston was
rumoured to have fathered a child with his current girlfriend
earlier in the week, with the couple apparently in the early stages of pregnancy.
A rep for Johnston has now confirmed to
Us Weekly
that Oglesby is in fact several months pregnant.
Johnston and Oglesby have been dating for over a year and first publicly confirmed their romance in December 2010.
The 21-year-old previously had a child with his high school girlfriend Bristol Palin in 2008, but the couple split soon after their son Tripp was born.
The Palin family and Johnston have since traded insults in the press, with Johnston claiming that
fame has "changed" Bristol for the worse
.
The news that Johnston is to be a father again came on the day that Sarah Palin
guest hosted NBC's Today
with Matt Lauer and Ann Curry.
> Levi Johnston 'too busy' to run for mayor in Alaska
> Bristol Palin: 'Levi Johnston is desperate'