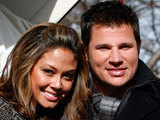 Vanessa Lachey
has joked that her pregnancy hormones are making her bad-tempered.
The 31-year-old, who
married her husband
Nick Lachey in July 2011,
announced that she is pregnant
last month.
She has now explained on an appearance on VH1's
Big Morning Buzz Live
that she isn't using her hormones as "excuses" to make her husband do things.
However, she continued: "I am using them as an excuse as to why I'm such a b-i-t-c-h sometimes!
"I'll snap and then I'm like, 'Oh honey, it's the baby'. I'm a little quicker to snap, but I'm also quicker to apologise. He has been a gem!"
Lachey, who has
described her pregnancy as "fun"
, recently revealed that
she wants to be "health-conscious" for her baby
.
> Nick Lachey: 'I will be wife Vanessa Lachey's birth coach'
> Vanessa Lachey on pregnancy: 'I always wanted a boy first'
Watch Vanessa Lachey speaking on
Big Morning Buzz Live
below: